Ways to Give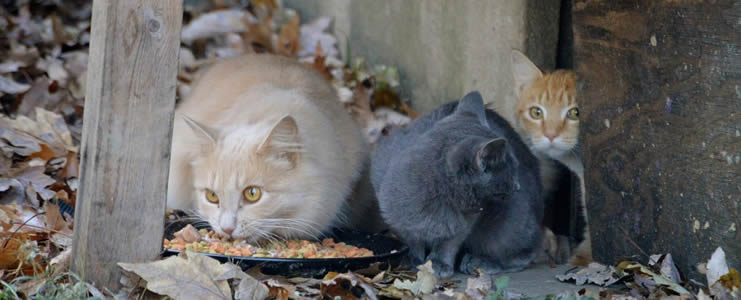 Alley Cat Advocates is making a life changing difference for stray, unowned cats.  Your support will mean so much to the animals right here in our community. Thank you for making Alley Cat Advocates and the animals we serve a part of your life.
There are many ways to give and we can help you find the one that is right for you.
Make a One Time Donation
Alley Cat Advocates is a nonprofit organization, which means we exist only because of the generosity of our donors.  Make a one-time donation in the name of, memory or in honor of a beloved person or pet!
Make a Monthly Recurring Donation
Monthly recurring donations make it easy to support community cats all year long! We use your paypal account to set up your monthly gift so you can easily manage and update your giving information.  Set up your monthly recurring gift today or contactus@alleycatadvocates.org and we can do it for you.
Shop
Shop to benefit community cats in the Alley Cat Advocates online store.  Find logowear, calendars, notecards, window slickers, posters, and opportunities to sponsor community cats.  Shop now!
Create a Fundraiser for Alley Cat Advocates
Having a birthday or an anniversary? Want to honor a loved one or the animal-lover in your life? Create an online fundraiser with your own story and photos where your friends and families can support community cats.
Sponsor a Community Cat each Month
Make a life-saving gift for one community cat every month!  Your gift will ensure fewer unwanted litters of kittens, help control overpopulation, save a female cat from the cycle of pregnancy, and extend the life of a male cat who will no longer fight and roam.  Together, we'll make Louisville the safest city in the country to be a community cat!  Learn more…
Contribute to the Billie Emergency Fund
As the first cat to come to one of Alley Cat Advocates' BIG FIXes in grave condition, it was Billie that taught us loud and clear that having funds to help critically wounded or ill community cats was an essential part of our mission. She embodied that need.  Please consider giving a gift in her name.  We'll see that future Billie's are put back together so that they can live full, happy lives – just like momma cat Billie.  Learn more…
Give from your IRA
Did you know that you can donate directly from your IRA and reduce your future tax burden as you make an immediate impact for your community cats?  Giving from your IRA is one of the smartest ways to support Alley Cat Advocates.  Your donation will make the same immediate difference as a cash gift without dipping into your taxable income.  Give tax-free in 10 easy minutes online.
Give the gift of stock
If you have appreciated stock, you can avoid ever paying capital gains tax by donating it directly to Alley Cat Advocates. You'll even receive a tax deduction equal to the fair market value of the stock at the time of transfer (in other words, its increased value)! Make an immediate impact for our region's cats while saving on your tax bill. Give your stock in 10 easy minutes online.
Planned Giving
Have you ever considered how making a planned gift to Alley Cat Advocates could help the organization meet its mission for years to come?  A planned gift, such as a bequest, is a gift made through your will or trust that costs you nothing now and supports our community cats for generations.  Through our partnership with FreeWill, you can create your will and plan your Alley Cat Advocates legacy at no cost today! Or, learn more about including Alley Cat Advocates in your existing plans.
Donate a Vehicle
Turn your old car, truck, RV or boat into a tax deductible donation to benefit community cats!  Learn more…
Wishlist
We're always in need of supplies.  Take a look at our wishlist and find out how to drop them off.  We also have an Amazon.com wishlist for ordering and donating supplies on-line.
Kroger Community Rewards Cards
Shop at Kroger and scan your Kroger Community Rewards Card to support Alley Cat Advocates! It is such an easy way to help! Learn more and enroll today…
Shop at Smile.Amazon.com
Support Alley Cat Advocates every time you shop Amazon.com! AmazonSmile is a simple and automatic way for you to support Alley Cat Advocates every time you shop, at no cost to you. When you shop at smile.amazon.com, Amazon will donate a portion of the purchase price to Alley Cat Advocates. Learn more …
Community Support
Thanks to the businesses and their associates who continuously give back to support our work for community cats.
Learn more …
Contact Us
Have questions?  Please contact us.