Alley Cat Advocates' online store offers several options for gifts that will delight the recipient while providing support for Alley Cat Advocates' work.
Like it or not, masks are a part of our every day lives for now. So, you might as well wear one that shows off your love of cats. With a donation of $45, you can receive your choice of one of these adorable hand-made masks.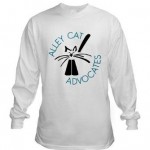 Shop our apparel store for a variety of logo wear options that show the world that you love cats! Tees, tanks and sweatshirts are all available. We recommend you search by the size that you are shopping for to make it easy to see every option.
Donate in honor of a special friend or family member and they will receive a letter letting them know of your generous donation in their name. You can choose to donate to sponsor a cat spay or neuter, or donate another amount.
The Alley Cat Advocates 2021 Calendar is still available in limited quantities. It makes a great stocking stuffer and is filled with beautiful cats on every page. The purrfect gift for the cat lover in your life.