Big Fix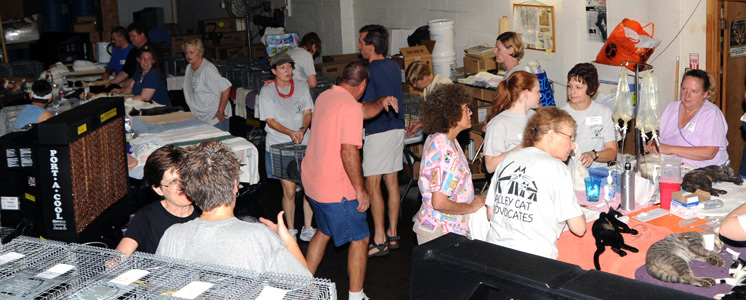 The Big Fix is a large-scale spaying and neutering clinic for community cats, staffed by volunteers and volunteer veterinarians.
Coordinated on an as-needed basis, Alley Cat Advocates spays/neuters, vaccinates and provides veterinary care to an average of 150 community cats.
This is an all-volunteer event – even the veterinarians are volunteers. For this service we require no set fee; however we do actively seek donations.  Without donations we would not be able to continue doing the Big Fix.
The Big Fix starts with a call to our hotline from a caretaker. Caretakers may be caring for one cat or 30! Caretakers provide food, water, and shelter for the unowned cats in their area. The only thing missing is spaying and neutering, this is where the Big Fix comes into play.
Each Big Fix happens over a weekend. Trap pick up is on Friday night and trapping is done on Saturday. Trapping can be an all-day affair or it might just take 10 minutes – the cats help decide this one! Once trapped the cats are brought to our warehouse on Saturday night. Cats are checked in and tagged.  Each cat gets two tags, one for the trap and one to go around their neck when they are removed from their trap. This ensures that the cats go back in the right traps and are returned to the right place.
Cats are also checked for medical issues and then situated for the night. Small kittens are taken to our kitten care area. We have a dedicated volunteer at each Big Fix to care for kittens. The volunteer will feed and monitor the kittens until they can be reunited with their mom. It sure is a tough job to love on all of those sweet kitties!
Sunday morning is the big day! Surgeries start in the morning and will go until mid to late afternoon depending on the number of cats. On average we will spay and neuter 150 cats at a Big Fix. The first step for the cats on their lucky day is the sedation area. Once asleep they move on to pre-prep where they are prepared for surgery.
When the cats are removed from their traps, each trap goes to Housing Improvement where it is cleaned thoroughly so the cats have a fresh trap after they wake up. Then the cats will move to post prep where a volunteer will monitor heart rate and respiration until the cats are moved into surgery. Once the cats are asleep until they are fully awake, they are constantly monitored by volunteers.
The cats are then moved into surgery. There are usually 6-8 fully licensed, volunteer veterinarians at each BIG FIX. There are also surgical assistants to aid the vets. How lucky these cats are to receive such dedicated care from our vets, vet techs, and volunteers! Each female gets her own, fully sterilized spay pack. We have very busy autoclave volunteers at each Big Fix, sterilizing spay packs for the next event!
After coming out of surgery the cats go to the ear tipping station. At this table each cat receives an ear tip (just the very tip is removed). This is a universally accepted symbol that the cat has been spayed or neutered and is part of a managed colony. This keeps the cats from getting trapped again and having to go through their big day twice! Then the cats get a rabies vaccination, a FVRCP (distemper) vaccination, a dose of flea treatment, a thorough ear cleaning, including topical ivermectin, subcutaneous fluids, and once over, and of course lots of TLC while they are still asleep!
Then it is on to recovery! At recovery volunteers monitor the cats until they are awake enough to go back in their trap. Volunteers rub on the cats to stimulate them to wake up. Cats are usually groomed and of course they receive lots of affection at recovery. Once the cats are back in their traps volunteers continue to constantly check each cat. Later in the evening when the cats are fully awake they will be given food and water. Moms are also reunited with their kittens. Each incision is checked on Sunday night and someone spends the night with the cats.
Early Monday the cats incisions are checked again and they receive food and water. On Monday evening caretakers return to the warehouse to pick up their cats. Cats are checked one last time before they leave. Once they return home, they are ready to be released! What lucky cats!

Need help?  Call our hotline at (502) 634-8777.