Community Cat Complex FAQs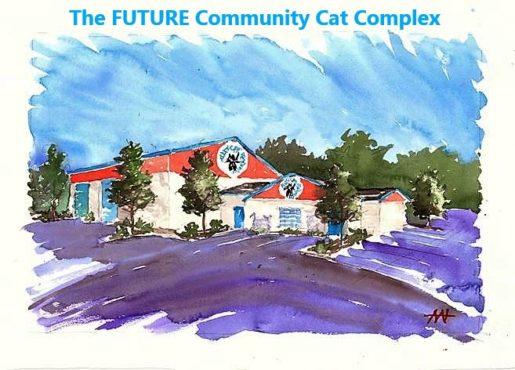 Does the creation of a Community Cat Complex mean that Alley Cat Advocates will become part of Louisville Metro Animal Services (LMAS)?
No. Alley Cat Advocates is an independent 501(c)(3) nonprofit organization that is managed by an Executive Director and a Board of Directors. We will continue to work closely with LMAS to help the community cats in our city, and leasing a freestanding building in close proximity will make this partnership even stronger.
Does this mean that you will only be able to help cats in Jefferson County?
No. As an independent 501(c)(3) nonprofit organization, we will continue to operate as we have been. We can assist cats anywhere within driving distance of our facility.
Will surgeries continue to be at no cost?
Our fees vary by locale (county, zip code) based on availability of grant funding. When grant funding does not allow us to offer no cost surgeries for various locales, we appreciate the donations we receive that allow us to offer surgeries at highly discounted rates.
Will Alley Cat Advocates staff change?
Alley Cat Advocates will continue to operate as an independent 501(c)(3) nonprofit organization with approximately four staff members and dozens of volunteers. The new clinic space gives us an opportunity to expand our staff and we anticipate hiring veterinary staff and assistants sufficient to operate our specialized community cat spay/neuter clinic.
Will I be able to drop stray cats off without an appointment at the new Alley Cat Advocates location?
As of right now we plan to continue to operate by appointment with the flexibility we currently offer to caretakers as they trap additional cats during the week they are scheduled. Citizens can call our hotline to request an appointment for TNR services for community cats. Citizens who find eartipped cats that need medical care should continue to contact private veterinarians or contact Louisville Metro Animal Services at 502-473-7387.
How many cats will you spay / neuter per day at the new clinic? Who will perform the spay / neuter surgeries and provide medical care to the cats?
We will have the capacity to spay or neuter 50 cats per day, Mondays, Tuesdays, Thursdays, and Fridays, or 200 per week, although we will start with lower numbers than that. Dedicated Alley Cat Advocates veterinary staff, including veterinarians and veterinarian assistants will be hired to staff the clinic and care for cats after surgery. As with our current protocol, Alley Cat Advocates volunteers may be utilized to provide basic cat care functions such as feeding and cleaning cages and specially trained volunteers may help with activities associated with surgeries such as the cleaning of surgical instruments and monitoring cats as they awake after surgery.
Do Alley Cat Advocates cats ever go up for adoption? If so, who will handle adoptions at the new facility?
The new Community Cat Complex offers space for up to 10 cats who need long-term medical or hospice care, or for whatever reason are not candidates for being returned to their outside home. These cats will be cared for by Alley Cat Advocates staff and volunteers, and enjoy access to the outside catio area. Some of these cats will be available for adoption. In cases where adoption is appropriate, we will refer the citizen to Louisville Metro Animal Services and the cat will be adopted through their standard adoption application process.
How can I get involved?
As TNR and caring for outside cats is inherently a community effort, we encourage citizens to get involved. There are many ways to help:
* Become a volunteer. Attend an upcoming volunteer orientation to learn more!
* Call our hotline for assistance caring for and spaying/neutering community cats (502-634-8777).
* Make a donation. There is no donation too large or too small, and now is the time to make history for Louisville by helping to make the Community Cat Complex a reality.